Have your dents repaired by the best in the world. Jake Kelm won the 2012 Dent Olympics competition in Orlando, Florida.
Dent Werks PDR is a Minnesota company that has perfected the skills in pdr (paintless dent repair) for repairing hail damage dents or parking lot mishaps. If you have small dings or large dents, call Dent Werks PDR for a clean, green repair that maintains your original paint finish and the value of your car, SUV, van or truck. In Minneapolis, St. Paul or anywhere near, Dent Werks PDR can get the hail or dent repair done. Call 612.599.7719 to schedule your paintless dent repair.
Jake Kelm, Owner
FAQ - PDR = Paintless Dent Repair

What is the Dent Olympics?

The Dent Olympics is open to all PDR paintless dent repair technicians in Wholesale and Retail from around the world. Jake Kelm, owner of Dent Werks PDR placed first at the 2012 competition in Orlando, Florida. Jake has finished 10th, 6th and 6th in 3 other years of competition. Winning the Dent Olympics is a great honor for Dent Werks PDR. Dent Werks PDR strives to be the best of the best in paintless dent repair.

What is Paintless Dent Removal?

Paintless Dent Removal (PDR) works with the memory of your vehicle's metal or aluminum. Using specialized custom made tools we meticulously manipulate the dent to permanently remove the dent. This restores the panel (door, fender, quarter....) to its original shape.

The process does not harm the original paint because today's polyurethane paints and thinner gauge metal are very flexible. PDR works from behind the dent so there's no sanding, painting or body fillers involved. Dent Werks PDR has also mastered the older Classic and Muscle cars with much thicker metal and older paints.

How long does an average repair take?

The average repair usually takes less time than lunch for a minor ding or dent.

What percentage of dings and dents are repairable using paintless dent removal?

We, at Dent Werks PDR, are able to repair many dents using paintless dent removal that other PDR shops turn down. We feel 95% of the vehicle is accessible to us, at Dent Werks PDR, using paintless dent removal. We make custom tools that are only available to us. We have had many experiences where customers have been turned down by other PDR techs, only to have us perform a perfect repair.

My car has an aluminum hood. Can it be repaired using PDR?

Dent Werks PDR repairs all types of metals used in the automobile industry. Aluminum may be more difficult to repair than traditional metals, however, we at Dent Werks PDR have extensive knowledge and experience working with aluminum and we can achieve perfect results.

What types of dings and dents cannot be repaired using PDR?

Most types of dings and dents can be repaired, but there are some exceptions.
Sharp, deep dings and dents where the metal has been stretched too far to recover.

Dings, dents, and creases where the paint is cracked are generally not repairable using paintless dent removal.
What are the advantages of PDR vs. Body Shop work?

Paintless dent removal is NOT the same thing as body shop repairs. The vehicles original finish is not disturbed because we do NOT use fillers, sanding or painting.

You need not worry if the colors match, because we DO NOT PAINT!

No overnight stays or rental cars are required, because most repairs can be done in less than one-hour. Hail damage is an exception.

The biggest advantage is your vehicles' resale value is improved!

How much does PDR cost?

Paintless Dent Removal costs significantly less than traditional body shops. Repairs start as low as $65.00.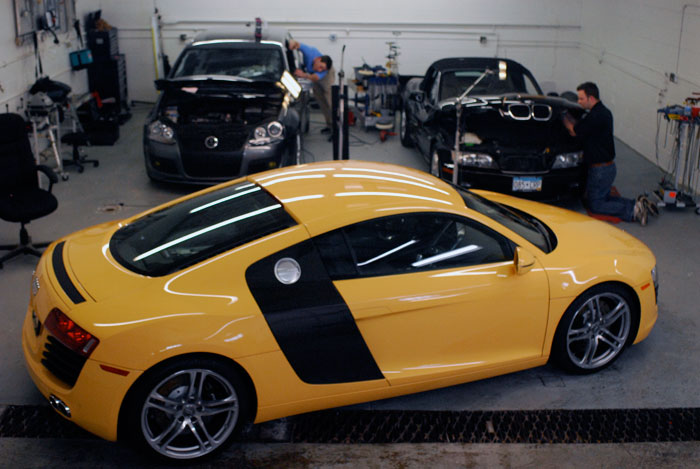 Choose the best in Paintless Dent Repair

When it comes to PDR (paintless dent removal) you have come to the best. Don't believe us, listen to what our clients have to say about Dent Werks PDR -

Jake is fabulous

"Jake, you thought you might be able to help me with my large dent in my fender using your special PDR tools? Help, I don't even know which fender was dented and which one is the original. Thank you for saving me and my truck and fixing my dent!"
Bob K. Excelsior, MN

Retail and Wholesale

DentWerks PDR works with wholesale accounts, hail clients and retail clients with small, medium and large dent repair needs. DentWerks PDR is insurance approved so you know we can fix it right. Give us a call for your wholesale or retail dent repair needs.



Comments from our customers:



"We recently had Jake at Dent Werks PDR repair our hail damaged BMW. We were very concerned about the quality of work and wanted no trace of the hail dents and dings. Jake exceeded all of our expectations on the hail repair. We will gladly refer all of our friends to Dent Werks PDR."
Craig W. Plymouth, MN

"Dent Werks PDR, your professionalism and quality on dent repair are second to none. Thank you for fixing my garage door goof up. Without you I would have had a lot of explaining to do. ;-) Thank you so much for saving me"
Cherie T. Edina, MN

"Jake Kelm is a dent fixing genius. The dent you repaired was huge and now I don't even know where it was. My friend, Dave, said you were the best at paintless dent repair and you did not disappoint me."
Joe J. Minnetrista, MN

"I hate to admit this, but I am extreme about my truck. Jake, Thank you sooooooo much for fixing the dent or crash I put into my tail gate. Your work is absolutely flawless and you repaired it in less than one day. I really didn't want to have to paint it and with your perfect repair, I don't have to."
Don K. Delano, MN

Call Dent Werks PDR (Paintless Dent Repair) today 612.599.7719
.