Have your dents repaired by the best in the world. Jake Kelm won the 2012 Dent Olympics competition in Orlando, Florida.
Dent Werks PDR is a Minnesota company that has perfected the skills in pdr (paintless dent repair) for repairing hail damage dents or parking lot mishaps. If you have small dings or large dents, call Dent Werks PDR for a clean, green repair that maintains your original paint finish and the value of your car, SUV, van or truck. In Minneapolis, St. Paul or anywhere near, Dent Werks PDR can get the hail or dent repair done. Call 612.599.7719 to schedule your paintless dent repair.
Jake Kelm, Owner

The History of PDR (Paintless dent removal)
Paintless dent removal has been in existence for 50-60 years. Dent Werks PDR's goal is to educate the public about paintless dent removal and how, when used properly, PDR can save money and maintain the original factory finish.

The history of pdr goes back to Germany at the Mercedes Benz factory. It is said that the German factory workers started with using a tablespoon and would place their thumb in the spoon to remove and push dents out in the open area on the car panel . PDR has come light years since that time, with all different types of state of the art picks and rods made of steel, aluminum and other types of metals. New in the paintless dent removal market are LED lighting and fog shields. Jake Kelm says, "Since I started the new lighting has really come a long way, going from 2-4 ft fluorescent bulbs with no fog shield (just straight up blinding white light) to an LED light and fog shield that blocks some of the blinding light and toning it down to a nice dull reflection." We, at Dent Werks PDR, are able to read into the depth of a dent which is first and foremost number one to being good at paintless dent removal. The lighting aspect of the Industry is very important to a good dent tech. The paintless dent removal tools have come a long way with tool manufacturers making better tools for the PDR industry every year. The PDR tool manufacturers are finding different ways to strengthen the metal of the PDR tool and thinning them without losing the integrity of the metal. This allows our PDR techs to access many more difficult to reach areas behind dents. In essence, our PDR techs are known as some of the best in the world. A new trend in PDR tool making is to create aluminum tools and accessories, which lightens the weight of PDR techs baggage, so traveling overseas to work on paintless dent removal is now possible.
Around 1980, paintless dent removal worked its way to the USA. Paintless dent removal is growing in popularity in and around the west side of Minneapolis and St. Paul. Car owners appreciate paintless dent removal, dealers and brokers use PDR and insurance companies love PDR. Call Dent Werks PDR (612.599.7719) today for an estimate or to answer your questions about having Dent Werks PDR remove your hail dents, door dings or larger body shop type dents.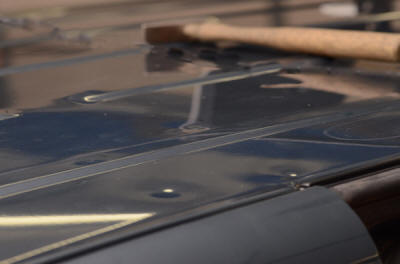 Paintless dent removal is an excellent method of fixing dents on sports cars and vans, trucks and sedans and any type of car in between. You do not need to own a Ferrari to reap the benefits of paintless dent removal from Dent Werks PDR. If you have a hail dented roof (like above) or a dent from a shopping cart in the local parking lot, look to Dent Werks PDR to repair your dent. Dent Werks has mobile dent repair service, too!

Dent Werks PDR removes dents and dings on all makes and models of cars, trucks, SUV's, vans and even motorcycles. We remove dents on the following makes - Acura, Audi, BMW, Buick, Cadillac, Chevrolet, Chrysler, Dodge, Eagle, Ferrari, Ford, General Motors Corp. (GMC), Honda, Hummer, Hyundai, Infiniti, Isuzu, Jaguar, Jeep, Kia, Lamborghini, Land Rover, Lexus, Lincoln, Lotus, Maserati, Mazda, Mercedes-Benz, Mercury, Mitsubishi, Nissan, Oldsmobile, Peugeot, Pontiac, Porsche, Regal, Saab, Saturn, Subaru, Suzuki, Toyota, Volkswagen, or Volvo.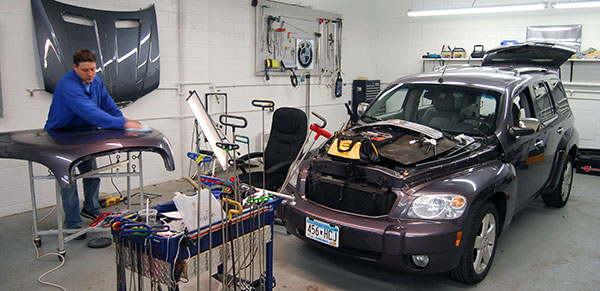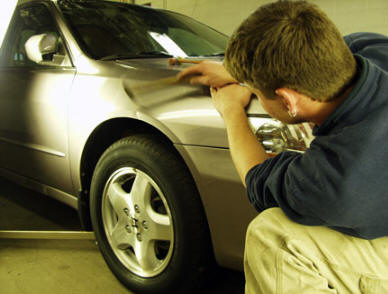 Choose the best in Paintless Dent Repair

When it comes to PDR (paintless dent removal) you have come to the best. Don't believe us, listen to what our clients have to say about Dent Werks PDR -

Jake is fabulous

"Jake, you thought you might be able to help me with my large dent in my fender using your special PDR tools? Help, I don't even know which fender was dented and which one is the original. Thank you for saving me and my truck and fixing my dent!"
Bob K. Excelsior, MN

Retail and Wholesale

DentWerks PDR works with wholesale accounts, hail clients and retail clients with small, medium and large dent repair needs. DentWerks PDR is insurance approved so you know we can fix it right. Give us a call for your wholesale or retail dent repair needs.



Comments from our customers:



"We recently had Jake at Dent Werks PDR repair our hail damaged BMW. We were very concerned about the quality of work and wanted no trace of the hail dents and dings. Jake exceeded all of our expectations on the hail repair. We will gladly refer all of our friends to Dent Werks PDR."
Craig W. Plymouth, MN

"Dent Werks PDR, your professionalism and quality on dent repair are second to none. Thank you for fixing my garage door goof up. Without you I would have had a lot of explaining to do. ;-) Thank you so much for saving me"
Cherie T. Edina, MN

"Jake Kelm is a dent fixing genius. The dent you repaired was huge and now I don't even know where it was. My friend, Dave, said you were the best at paintless dent repair and you did not disappoint me."
Joe J. Minnetrista, MN

"I hate to admit this, but I am extreme about my truck. Jake, Thank you sooooooo much for fixing the dent or crash I put into my tail gate. Your work is absolutely flawless and you repaired it in less than one day. I really didn't want to have to paint it and with your perfect repair, I don't have to."
Don K. Delano, MN

Call Dent Werks PDR (Paintless Dent Repair) today 612.599.7719
.